WHAT YOUR INSURANCE COMPANY DOESNíT TELL YOU ABOUT HAIL DAMAGE AND DENT REPAIR:
Click on a question to jump directly to an answer:
WHAT THEY DON'T TELL YOU:
1) The insurance company hopes you take the money, put it in your pocket and never get your car repaired. Why? Because if you pocket the money and donít get your vehicle repaired, you will continue to make your premium payments, increasing their bottom line and decreasing yours! Any future claims will be denied until your hail damage is repaired.
2) Your insurance company may intentionally under value the cost of the repair sometimes by thousands of dollars! Why? Because they know that if you take the money and run they just saved thousands of dollars!
Return to the top of the page
WHAT SHOULD I DO?
1) Call and report the claim to the insurance company ASAP.
2) Check to see if you have rental coverage and how much they pay.
3) Make appointment to have insurance adjuster estimate damage and issue payment to you and the lien holder-- this gives YOU control over the repair, not the insurance company.
4) Call Collision Masters! The number in the Dallas area is (972) 261-2005. The number in the Arlington-Fort Worth area is (817) 261-2005
Return to the top of the page
WHY SHOULD I NOT USE THE BODY SHOP THE INSURANCE COMPANY RECOMMENDED?
Because Collision Masters works for you, not the insurance company. Our goal is to do whatís in your best interest! Our business comes from our customers and our outstanding reputation, not from the insurance companies.
Return to the top of the page
WILL A HAIL DAMAGE CLAIM MAKE MY INSURANCE RATES GO UP?
No. Insurance companies classify claims into two different general categories: (1) Collision, and (2) Comprehensive. Hail damage is a comprehensive claim and is considered an act of God. Hail damage claims will not raise your insurance rates.
Return to the top of the page
WHAT IF THE DAMAGE DOESN'T LOOK BAD ENOUGH TO JUSTIFY AN INSURANCE CLAIM?
Many dents aren't readily visible to the untrained eye, especially when viewed outdoors in the sunlight. Our professionally trained damage appraisers will inspect your vehicle free of charge and advise you of hidden damage that could cost you later when you turn in your lease or trade in or sell your vehicle. Most people would be surprised at just how much hail damage could cost them-- in many cases, thousands of dollars!
Return to the top of the page
IF I LEAVE THE DENTS ALONE, WILL THE HEAT FROM THE SUN EVENTUALLY BRING THE DENTS BACK OUT ON THEIR OWN?
No. The dents on your vehicle must be physically manipulated back to their original location by using specially designed custom paintless dent repair tools and techniques.
Return to the top of the page
I HAVEN'T MADE A CLAIM WITH MY INSURANCE COMPANY YET... HOW MUCH TIME DO I HAVE TO GENERATE A CLAIM?
Claims are supposed to be made in a "timely" manner, which usually equates to 30-60 days from the time of occurrence. If you haven't already made a claim, we strongly advise you call your insurance company as soon as possible before time runs out.
Return to the top of the page
WHAT IF I DON'T HAVE RENTAL CAR COVERAGE?
Since most cars can be repaired in one or two days in most cases, we can keep any inconvenience to a minimum and we will be happy to provide a rental car at our expense if necessary.
Return to the top of the page
HOW LONG DO I HAVE TO GET MY VEHICLE REPAIRED?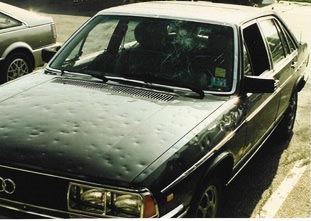 Insurance checks are usually good for 180 days (6 months). However, your free repair estimate is based on current labor rates and parts prices, which will most likely increase as you wait. Waiting too long to repair your vehicle is risky since your insurance policy is restricted for "unrepaired damage" until repairs are verified by your insurance company. Please don't hesitate,contact us today for a free estimate!
Return to the top of the page
WHAT TYPE OF SERVICE SHOULD I EXPECT FROM REPAIRS PERFORMED AT COLLISION MASTERS?
With Collision Masters, your satisfaction is guaranteed. We use Paintless Dent Repair techniques to make your car or vehichle look as good as new.
We welcome any additional questions you may have and would love the opportunity to earn your business and the business of your family and friends.
Return to the top of the page
CONTACT US NOW FOR A FREE ESTIMATE!
Remember that the money may be coming from the insurance company, but you should control the repair process. You have the right to choose who you want to repair your car after an auto accident.
When you call Collision Masters, we will take care of you every step of the way. You will get:
Lifetime Guarantee on all body work! Give us a Call!
| | |
| --- | --- |
| Dallas | (972) 261-2005 |
| Fort Worth | (817) 261-2005 |
Dallas (972) 261-2005
Fort Worth (817) 261-2005